Copper (II) Oxide
Pride-Chem uses advanced manufacturing methods for production of copper oxide powder which has many uses in pigment for glass and ceramics, ferrite cores, animal feeds, wood treatments, metal catalyst, manufacturing of semiconductors in electronic devices and electroplating applications.
Pride-Chem can produce various purity grade and fineness of copper oxide powder that suit your needs.
Pride-Chem can provide copper oxide powder in the following approved UN packaging:
25kg paper bags
500kg to 1000kg bulk bags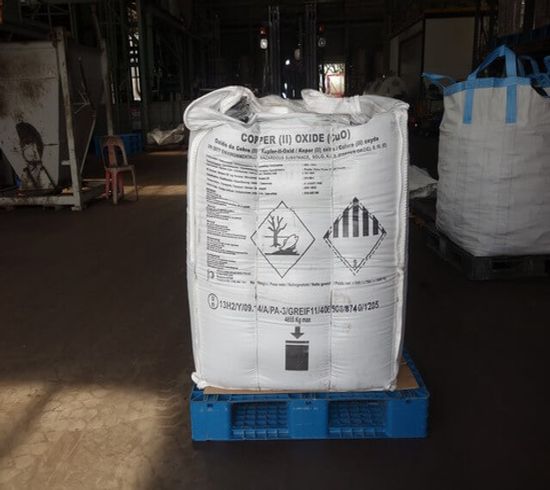 Copper Oxide in Industrial Applications
Characteristics
Copper (II) oxide is a black free flowing powder but brown high surface area is also available. It is stable in air and moisture at room temperature.
Solubility
It is insoluble in water and alcohols but readily dissolve in acids and ammonium compounds solutions.
Regulatory Classification
It is a environmentally hazardous substance and is classified as under UN Hazard Class 9.
Preventive Measures
Due to the small particle size, avoid contact with skin and eyes. Avoid formation of dust and aerosols. Provide appropriate exhaust ventilation at places where dust is formed.
PRODUCT SPECIFICATION
CHEMICAL NAME
COPPER (II) OXIDE
COMMON NAME
CUPRIC OXIDE
COPPER OXIDE
COPPER MONOXIDE
CHEMICAL FORMULA
CUO
COPPER CONTENT
77-79%
MOISTURE
1% MAX
INSOLUBLES
0.2 % MAX
APPEARANCE
BLACK POWDER
If you are looking to buy copper, look no further. We carry a wide selection of high-quality copper oxide products for every manufacturing application.
We can provide product samples for your testing and verification.
Get in touch with Us
Contact us for additional product and pricing information today!